Teaching jobs in the UAE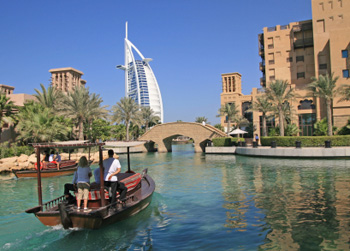 Types of Schools in the UAE
The UAE has many different teaching jobs for qualified and certified teachers. International schools use a variety of curricula- US Common Core, English National Curriculum (UK), Australian, Indian and more. There are also opportunities in state schools in the UAE for foreign teachers.
Salaries are tax free in the UAE and salaries vary widely depending on the type of school. Teachers are encourged to look beyond the famous Dubai to the other emirates especially Sharjah, Abu Dhabi and Fujairah where there are lovely and welcoming schools that are often overlooked.
Qualifications needed to teach in the UAE
Requirements are set by the Ministries of Education and normally include a Bachelors degree in your teaching subject and teacher training such as a Post Graduate Certificate in Education as well as a valid teaching license or teacher registration from your home country for the subject and level you teach. A clean criminal record check is normally required. Some Emirates require 2 years of teaching experience and many have an age cut off at around 56 for most teaching posts, though this can be extended for senior leaders depending on the school.
School year
Late August to late June or early July.
What teachers like best about it
Teachers living and teaching in the UAE list the tax - free salary, high standard of living, large multinational expatriate community and beaches as their favourite aspects.
What teachers like least about it
Teachers say the bureaucracy and parental pressure to produce top grades are the most challenging aspects.
Description
The United Arab Emirates (UAE) is comprised of seven semi-autonomous emirates: Dubai, Abu Dhabi, Ajman, Fujairah, Ras al-Khaimah, Sharjah, and Umm al-Quwain. The official religion is Islam, though the country is tolerant of other religions and rarely interferes provided they do not break the law by proselytising. The official language is Arabic though English is widely spoken and street signs, shop signs, menus and the like usually have both Arabic and English because of the large numbers of expatriates living in the country. Indeed, of the 8 million people in the UAE, only about 15% of them are Emirati, the rest being expatriates.
Teachers in the UAE spend their free time socialising with friends at the numerous cafes, restaurants, theatres, sports, beach and social clubs in the area, and can also take advantage of world class events at the Yas Island F1 track in Abu Dhabi and the Dubai Tennis stadium.
More about: Al Ain (Abu Dhabi)
Teaching Jobs in Abu Dhabi
Abu Dhabi is the capital of the UAE and is the largest and wealthiest of the Emirates. Teachers in Abu Dhabi enjoy a wide variety of international American and British schools from which to choose. With tax-free salaries, end of contract bonuses and the provision of free housing, teachers find that they can save up to half of their earnings. Abu Dhabi is a large emirate, and international schools are located in Abu Dhabi City for the people who wish to teach abroad as well as the oasis city of Al Ain, and in the smaller western regional cities such as Liwa and Madinet Zayed.
Abu Dhabi boasts beaches, clubs, restaurants and shopping with most western amenities available and it has become a top teaching destination for thousands of teachers each year.
Teaching Jobs in Dubai
Dubai is well known for its tourism, and it is a top destination for teachers as well who want to teach abroad. Similar to Abu Dhabi, there are many different kinds of American and British international schools spread throughout this small powerhouse of an emirate.
Living in Dubai can be slightly more expensive than some of the less well-known Emirates, but teachers who are careful with their money can save at least one quarter of it.
Teaching Jobs in Sharjah
Sharjah is the third largest emirate and lies adjacent to Dubai. Due to its lower cost of living many expatriates live in Sharjah and commute to work in Dubai. Most American and British international schools are located in the city of Sharjah, near the Dubai border. Teachers in Sharjah enjoy the many festivals and events such as the F1 Boat races in December, the Date Festival in May, as well as jet skiing and boating, which are widely available.
Sharjah is a "dry" emirate which means that the sale or possession of alcohol is almost entirely forbidden but there are exceptions. You can buy alcohol at the Sharjah Wanderers Sports Club for members & their guests, at the Sharjah airport duty free and for personal consumption if you have a personal alcohol license.
Teaching jobs in Sharjah, Ajman, Fujairah, Ras al-Khaimah, and Umm al-Quwain
The lesser known of the United Arab Emirates all have opportunities for teachers who wish to teach abroad, and they are developing rapidly due to government investment. Ajman, Fujairah, Ras al-Khaimah and Umm al-Quwain are each fascinating places to live and work. They offer a quieter lifestyle and more authentic cultural experience than might be found in the cities of Dubai and Abu Dhabi which, are only a few hours away.
Teachers get the benefit of a tax-free lifestyle, lower cost of living as well as plenty of outdoor activities at the unspoilt beaches and nearby Hajar mountains.
Currency
UAE Dirham http://www.xe.com/currency/aed-emirati-dirham
Government
The government is a combination of a federation of emirates where the UAE government holds some powers centrally and others reserved to member emirates, and a monarchy.
Case studies of teachers living in the UAE
http://www.edvectus.com/pages/case-study-danielle-in-northern-uae
http://www.edvectus.com/pages/case-study-latonia-an-american-in-the-uae
http://www.edvectus.com/pages/case-study-american-teaching-in-abu-dhabi
http://www.edvectus.com/pages/case-study-michelle
http://www.edvectus.com/pages/case-study-susan
http://www.edvectus.com/pages/case-study-british-teacher-in-dubai
Climate
Desert