Employer Info
What we do
Edvectus is a recruitment consultancy that specialises in recruiting and matching qualified expatriate teachers to international school jobs. We have offices in all of the major regions of the world including North America, United Kingdom, Australasia, and the Middle East that work together to bring you the best staff the world has to offer.
It's been a real pleasure to work with Abby and the Edvectus Team to help with the recruitment needs of a Founding International School. The quality of Edvectus candidates have been excellent who have settled into school life quickly and have become valued members of our ISA Liwan Learning Community. I enjoy reading the profiles of candidates and the level of professional support from Edvectus has been fast and outstanding. I feel the Edvectus Team has a thorough understanding of the type of candidates that we are seeking to ensure great matches! I will look forward to working with Edvectus as our School continues to develop and grow. - Michael Urquhart, Principal of ISA Liwan
Our approach
Like the children that you teach, we realise that every school is different, which is why we have client support teams who live and work in the regions that we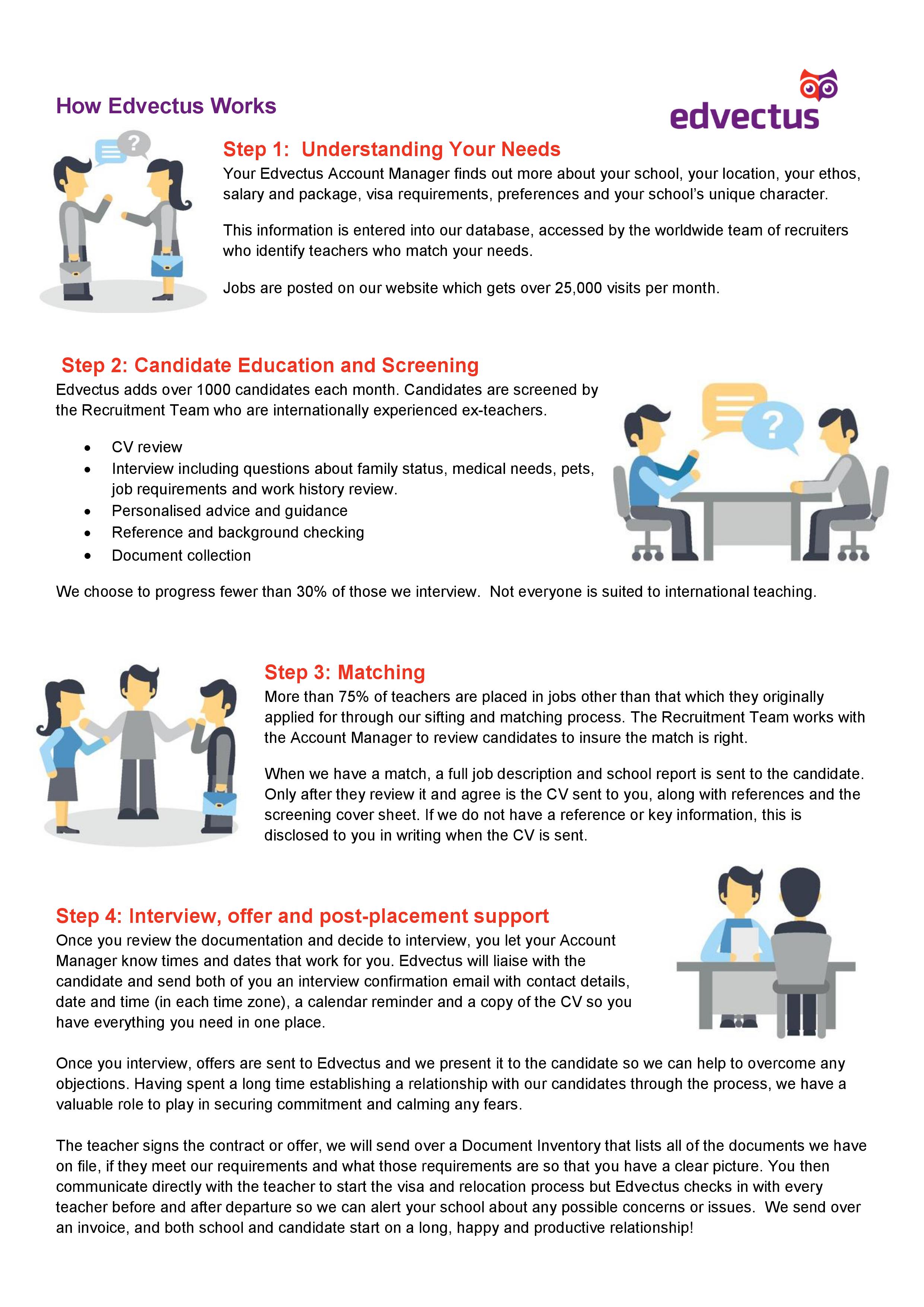 serve. We are available when you need us, we understand first-hand the environment in which you work and we can easily visit you to develop a long and lasting relationship. Each client will have a dedicated client contact who works with you understand what you want, and to provide valuable market knowledge so that you can get what you need. Our client teams work with our offices located in the major western countries from which we recruit to match teachers to your jobs, giving our clients access to teachers around the world with a single point of contact.
What makes us unique
Experience
The team at Edvectus are internationally experienced ex-teachers who together have more than 35 years of international teacher recruitment experience and have been responsible for placing over 2000 teachers and school leaders into more than 45 countries around the world. Our market knowledge is second to none, and available to our clients free of charge.
Education
At the heart of our recruitment process is education.
We educate our clients on market trends. We educate our teachers through their personal recruitment consultant and through our unique learning portal which gives them access to many hundreds of learning resources specially selected to educate them about teaching abroad, co
untries, cultures and customs around the world, and teaching pedagogy- all relevant to international schools. We know that by fully educating our teacher candidates and setting their expectations correctly, they will be better prepared to teach in your school, in your culture and in your country from the moment they arrive.
Safeguarding
We take our responsibilities to protect children seriously and our processes have been rigorously designed to assess our teachers' suitability to teach abroad. We thoroughly screen our candidates with a multilayered approach that includes reference and criminal checking, forensic CV analysis and more. More importantly we develop a personal relationship with our candidates and can better understand them which allows us make a perfect match between school and teacher.
We want to express our heartfelt gratitude and extend our sincerest thanks to Edvectus and the whole team for your stellar support in helping to identify and hire top positions at the American International School of Jeddah. Your dedication and expertise in the education recruitment field have been invaluable in assisting us in finding highly qualified and talented professionals to join our school community. We are immensely grateful for your commitment to ensuring a seamless and efficient recruitment process, and for your unwavering support in our mission to provide a world-class education to our students. You have truly been a trusted partner, and we look forward to continuing our successful collaboration with you in the future. - Robert Jackson, Superintendent of American International School of Jeddah
Find out more
There is no charge to our clients for our services unless you agree to hire one of our candidates, so for a no obligation consultation on how Edvectus can work for you, please phone or email our client services team by clicking here or by filling out the form below