South Korea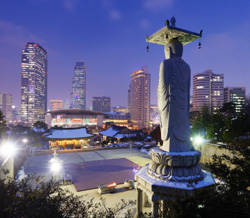 Currency
South Korean Won http://www.xe.com/currency/krw-south-korean-won
Government
Constitutional Presidential Republic
Climate
South Korea has a temperate sub-tropical climate with four distinct seasons. The average high in January is 2C (35F) and in October it is 20C (68F). Most of the precipitation in Seoul falls in the summer.
School year
Most international schools run from September to June.
What teachers like best about it?
Technologically advanced country, welcoming of foreigners, lots of social clubs, indoor and outdoor sporting activities such as hiking, skiing and mountain biking, capital Seoul lower cost of living than many western cities and very low cost of living elsewhere throughout the country, good public transportation (Seoul), vibrant expatriate community, good links for international travel.
What teachers like least about it?
Winters can be cold (spring and autumn are best seasons), smog or "yellow dust" can be a problem for asthmatics at some times of the year.
Description
South Korea has a unique blend of modern and traditional that is quite distinctive. Seoul is the capital city and with a population of almost 10 million, it is a thriving metropolis with an advanced infrastructure of the world's fastest internet system, a high speed railway, the world's longest subway system, and the home of multinationals such as Samsung, LG and Hyundai-Kia. Shopping opportunities are vast with all of the major international brands of the likes of Forever 21, Uniqlo and Zara. Alongside this modernity the overall feel of the city is traditional and majestic. Seoul hosted the 1988 Olympic Games, the 2002 FIFA world cup and the 2010 G20 world summit. It's a busy place.
The official language of South Korea is of course Korean, but many Koreans speak some English as it is taught at school and most Koreans are keen to learn it. Contrary to the likes of the Japanese language the symbols are phonetic so with 24 symbols/letters of the alphabet to learn, the average person can be reading Korean with a couple of days studying. South Korea has no official religion but most Koreans who profess a religion are either Buddhist, Protestant or Catholic.
Seoul has thousands of restaurants, both western and eastern, a lively nightlife scene and over 100 museums. Korean food is typically very spicy with lots of soups, noodles and rice on the menu. Although they eat a lot of meat vegetarians will find plenty of options. Korean Pop music or K-Pop has burst into the international scene in recent years and you will no doubt become exposed to it as you are out in clubs and bars. It is inventive, lively, colourful and energetic, much like the Korean people who invented it.
The most popular sport in South Korea is American Baseball, and there are 3 professional teams in Seoul alone. In addition, there are men's and women's football (soccer) teams, as well as professional basketball teams. Expatriates will find a huge number of clubs to join including Gaelic football, Irish Association, Australia and New Zealand associations, wine clubs, sailing clubs, football/soccer clubs, American women's club, British club, men and women's rugby and much more. Learning Tae Kwondo in a club with locals is an experience unparalleled. Because there are so many expatriates in South Korea, and the locals so welcoming, the selection is endless.
During your weekends and longer breaks, there are many interesting sights to see in South Korea. Gyeongju city in the southern part of South Korea has a fabulous historic district that has been designated a UNESCO world heritage site, and contains among other things, the Bulguksa Temple and Seokguram Grotto. Nearby Busan hosts many festivals including a film festival and international firework festival and has beautiful beaches to explore. Centrally located Daejeon has Expo world, O World theme park as well as Aqua Park. Not too far away you can visit the beautiful Daecheongho Lake and Yuseong Hot Springs.
Typical holiday destinations for longer holiday periods include: Japan, Bali, Thailand and the Philippines.
South Korea is a vibrant and fun place to teach, as the thousands of teachers already there will attest. With a friendly combination of old and new, expatriate and Korean, it is not hard to understand why it is a popular expatriate destination.