Singapore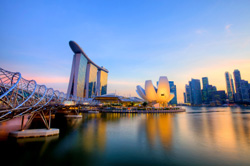 Currency
Singapore Dollar http://www.xe.com/currency/sgd-singapore-dollar
Government
Constitutional Republic
Climate
Tropical rainforest . Average high in January is 30C (86F) and in October 31C (88F). It is generally hot and humid. April and May are the hottest months, and the wetter monsoon season is November to January.
School year
January to November for schools tied to the host national community, though a small number of international schools serving only expatriates will run from September to June.
What teachers like best about it
Clean, safe, good transport links to the wider region, lots to do in your free time, westernised and urbanised environment and lots of western expatriates
What teachers like least about it
High cost of housing, warm and humid, periodic atmospheric haze at some times of year
Description
Singapore, a small and vibrant city-state made up of 63 islands, is nestled between Malaysia and Indonesia. Singapore is a centre for international trade with the fourth largest financial district and one of the five busiest ports in the world, packed into just 272 square miles. It is heavily urbanised and densely populated as it has a population of 5 million.
Singapore is multicultural and multiethnic. Singaporeans trace their ethnicities back to China, Malaysia and India. Religions such as Christianity, Buddhism, Hinduism, Islam and others co-exist peacefully. There are four official languages: English, Mandarin, Malay and Tamil. English is the typical language of instruction in schools and the usual lingua franca in business however only a third of Singaporeans speak English as their first language.
Singapore has a good transportation network, a well developed healthcare system and strong state education. Teaching posts in Singapore are highly competitive because it is a very popular location, therefore teachers without significant relevant experience are unlikely to obtain a post.
Once you are working in Singapore, there is much to see in the city. Shopping on Orchard Street and Haji Lane in the Muslim quarter is very popular, as are visits to Chinatown, the many botanical gardens, the manmade Singapore Flyer and Marina Bay. There are numerous restaurants and clubs for those who want a vibrant nightlife. You can easily take a one day or weekend trip via express bus or train to Malaysia to see the surrounding beaches or the cities of Kuala Lampur and Malacca for the day or weekend. Longer trips by plane are very affordable thanks to the vibrant transport hub at Singapore Airport and low cost flights throughout the region.
Singapore offers a great combination of urban lifestyle, cultural immersion, travel opportunities and western amenities which make it understandably a posting of aspiration for many teachers far and wide.