Teaching in Russia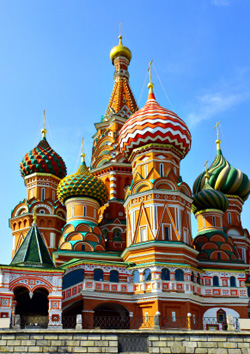 Currency
Ruble http://www.xe.com/currency/rub-russian-ruble
Government
Federal republic, Semi-presidential system, Constitutional republic
Climate
Due to Russia's size and distance from the sea in many areas a humid continental climate dominates. The majority of Northern European Russia and Siberia has a subarctic climate, with extremely severe winters, however the coastal part of Krasnodar Krai on the Black Sea, has a humid subtropical climate with wet but mild winters. There is significant snowfall across most parts of the country during winter months. Average high in Moscow in July is 24C (75 F) and -3C (26F) in January.
School year
September to April for schools tied to the host national community. International schools will usually run September to June
What teachers like best about it?
Historical and cultural significance, good modern amenities in major cities
What teachers like least about it?
Crime in some places, high cost of living
Description
Russia is located in northern Eurasia straddling two continents. - From the northwest of the country to the southeast, Russia shares borders with 14 countries: Norway, Finland, Estonia, Latvia, Lithuania and Poland, Belarus, Ukraine, Georgia, Azerbaijan, Kazakhstan, China, Mongolia, and North Korea.
Russia covers more than one-eighth of the Earth's inhabited land area making it the largest country in the world and is the world's 9th most populous country. Due to its sprawling land mass Russia stretches across the entirety of northern Asia and a large proportion of Eastern Europe, spanning nine time zones. The geography of the country reflects a diverse range of environments including Arctic tundra, forests, lakes and mountains which hosts over 700 species of bird and over 250 mammal species including the iconic brown bear often used as a national symbol.
From opulent palaces, beautiful ballets, dazzling, round spired churches and wooden villages which maintain their unique antiquity, Russia will most certainly satisfy your cultural appetite. Music, dance and sport are central to Russian culture and you will find musical outlets from pop to classical and dance from modern to ballet- to suit every taste.
For sport junkies there is word-class skiing, fishing, hunting and river rafting, pursuits which are perfectly capped off by unwinding in a banya (traditional steam bath).