Teaching jobs in Malaysia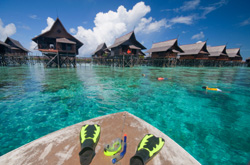 Currency: Malaysian Ringgit http://www.xe.com/currency/myr-malaysian-ringgit
School year: January to December for schools tied to the host national community.American and British international schools will usually run September to June.
What teachers who wish to teach abroad like best about it? Friendly and laid back lifestyle, good standard of living, western amenities, a good balance of westernisation and Malay culture, nice beaches.
What teachers like least about it?: Warm and humid most of the year, long work day with high expectations.
Description
Malaysia is a Southeast Asian country comprised of two regions- East and West Malaysia, that are separated by the South China Sea. West Malaysia is connected by a causeway to Singapore, and it shares borders Thailand, Indonesia and Brunei. East Malaysia lies on the island of Borneo, which is renowned for its biodiversity and wildlife.
Like nearby Singapore, Malaysia is multicultural and multiethnic. Sixty-one per cent of the population is Muslim, with Hindus, Christians, Buddhists and other religious denominations also play an active part. Religious harmony is seen as a priority for the government, which has declared Christmas, Chinese New Year, and Diwali all national holidays alongside Islamic holidays.
When living in Malaysia you can take advantage of the wide range of experiences on offer. If you crave city life, Kuala Lampur (KL) the capital city is the place to be. It is home to more than 1.6 million people including a thriving expatriate community. The world's tallest twin buildings, the Petronas Towers are in KL, along with glittering shopping malls, night markets such as Petaling Street, restaurants, nightclubs, pubs and cafes.
On the other hand if you crave nature, some of the world's most beautiful sights are in Malaysia. Tioman Island was voted by Time Magazine the most beautiful in the world; the ancient Taman Negara rainforest offers canopy walkways, waterfalls and majestic trees; and the Cameroon Highland trails lead you through lush forests, waterfalls and tea plantations. Beautiful beaches are everywhere in Malaysia including the famous Redang in West Malaysia, Langkawi Island and Selingan Turtle Island.
The cost of living in Malaysia is relatively low, and is particularly so outside of Kuala Lumpur.
The official language of Malaysia is Bahasa Malaysia, but English is compulsory in schools and is widely understood. Malaysia has a good transportation network, and well developed health system.
Malaysia is a good choice for teachers who wish to have access to a western-friendly urban lifestyle in a welcoming country that also offers stunning natural beauty and good transport links to the wider Asian region. It's an easy place to live in and to enjoy.