Teaching in Kazakhstan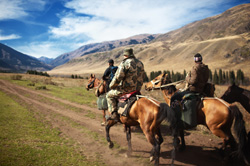 Currency
Kazakhstan Tenge http://www.xe.com/currency/kzt-kazakhstani-tenge
Government
Presidential Republic
Climate
Continental, cold winters and hot summers, arid and semi-arid
School year
Most schools run from September to July
What teachers like best about it?
That Kazakhstan is relatively undiscovered by westerners, the friendly host nationals, interesting mix of diverse cultures and landscapes
What teachers like least about it?
The bureaucracy
Description
Kazakhstan is an emerging country that is rich in natural resources, and is focussed on deploying its new wealth for the good of the Kazakh people. West regions of the republic are rich in oil and gas and Kazakhstan produces metal ores and phosphorites on a large scale with factories in Balkhash, Zhezkazgan, Ust-Kamenogorsk, Shymkent, Leninogorsk, Temirtau, Aktyubinsk and Aksu. The world famous space centre, Baikonyr, is located in Kazakhstan as well.
The official language is Kazakh but the Russian language is used widely as well. Since 1998 the capital of the republic is Astana (273,500) which is centrally located.
Historically, Kazakhs were nomadic people, influenced by the Huns, Turks, Mongols and many others. More recently as a state of the USSR, many ethnic Russians settled in the region as well, leading to a rich melange of different ethnicities within the country. Diverse in climate as well as in ethnicity, all climatic zones are found within Kazakhstan except for tropical and equatorial and visitors can climb the Tien Shan mountains, swim in the Caspian Sea and travel the vast steppes by car, plane, bicycle or even horse.
The culture of Kazakhstan still has links with its nomadic heritage. Horses are central to Kazakh culture and are ridden, raced and even eaten. Camels are prized for their ability to cross the arid steppes and yurts, which are woollen round tents which are easily transportable by camels and horses, are still used as dwellings and found at many festivals as well as eco-tourism sites. Music holds an important place in Kazakhstan from pop music to folk instruments such as the guitar-like dombra.
The cities Astana and Almaty are quite westernised, with beautiful shopping malls, coffee shops, restaurants and clubs, whereas some of the more far-flung areas are less developed by western standards more reflecting the communist past. Whilst petty crime is found to the same levels as other cities, Kazakhstan is, on the whole, a very safe destination for western teachers as major crimes are rare.
Those who wish to work in Kazakhstan must be prepared for a cultural immersion into a country that is still somewhat undiscovered by westerners, both for the wonder of discovery and the challenge of working across cultures. But based on the ambition and resources of her people, we know this will not long be the case, so those who relish the trail-blazing excitement of being amongst the first should act sooner rather than later because this country is using her vast resources to develop and grow at a very rapid pace.