Teaching in Jordan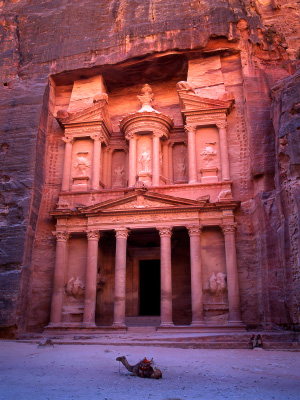 Currency
Jordanian Dinar http://www.xe.com/currency/jod-jordanian-dinar
Government
Constitutional Monarchy with a parliament
Climate
Jordan has a more temperate climate than much of the Middle East with hot, dry summers and short, cool winters. Average maximum temperature in Amman in January 12C (54F), and 26 C (79F) in October.
School year
September to June
What teachers like best about it
Safety, low cost of living, travel opportunities, friendliness of host nationals and relatively liberal government
What teachers like least about it
Nightlife is more sedate than in places like Dubai
Description
Jordan is one of the Arab world's most westernised and liberal countries, but it does not have the vast oil wealth of many Gulf States. Tourism accounts for almost 15% of its GDP and in 2010 there were almost 8 million visitors. Top sights include the lost city of Petra, the Dead Sea where the unique properties of the water mean you cannot sink, the natural beauty of Wadi Rum, Aquba on the Red Sea and the Ma'in hot springs as well as countless historical sites such as Pella, Jerash and Ajlun , that date back to Greco-Roman times. What Jordan lacks in lucrative natural resources it makes up for in natural beauty and historical sites.
Jordan is an easy place to live with a low cost of living, low crime rate, freedom of religion and a liberalised, westernised outlook but set within a thriving progressive Muslim culture. There is no upper age limit for teachers in Jordan as there is in most of the Middle East and this makes it a top regional destination for teachers 55 and over; as well as teachers with families who like the low cost of housing.
The capital city is Amman, which offers a fascinating contrast between new skyscrapers, smart restaurants and cosmopolitan art galleries that sit comfortably alongside traditional coffee shops, buildings and artisan workshops. About half of Jordan's population live in Amman where the people are multi-cultural, multi-denominational, well-educated and extremely hospitable. They welcome newcomers and take pride in introducing them to their city and culture.
Other cities of interest are Aqaba, which is a beautiful resort city on the Red Sea. Initially known only for tourism including diving and snorkelling amidst the rich marine life, it has recently been designated a Special Economic Zone and has the highest growth of any city in Jordan.
The official language is Arabic, but English is widely spoken especially in the larger cities and tourist hotspots. The national religion is Islam but it is generally a secular country.
Jordan has a good health system, widely regarded to be the best in the region and has been a 'medical tourist' destination since the 1970s. They consistently rank highly in world surveys for their police force and their prevention of organised crime. Alcohol is easily available and the country boasts its own organic vineyards as well as local breweries.