Teaching Jobs in Hong Kong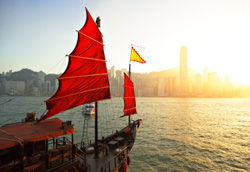 Currency
Hong Kong Dollar http://www.xe.com/currency/hkd-hong-kong-dollar
Government
Special Administrative Region of the People's Republic of China
Case studies of teachers placed in Hong Kong
http://www.edvectus.com/pages/case-study-american-teacher-hong-kong
Climate
Subtropical climate. Average high in January is 21C (70F) and in October it is 28C (82F). It is humid in the spring and summer, wetter in the winter and sunny and warm in the autumn.
School year
January to December for schools tied to the host national community and many international British and American schools, though some international schools may run September to June.
What teachers like best about it
Vibrant expatriate community, western amenities with local culture, lots to do out of doors, good transportation network
What teachers like least about it
Lots of people in a small place, small and expensive apartments.
Description
Hong Kong is often described as "East meets West", because it is a city-state that proudly wears its heritage as a British colony right alongside its Chinese roots. Hong Kong is made up of over 200 islands packed into a tiny landmass of 426 square miles. Only 25% of this is developed, particularly Hong Kong Island and Kowloon. With a population of 7 million people, Hong Kong is one of the most densely populated countries in the world.
Cantonese and English are the official languages. There is no official religion. Most Hong Kong citizens either claim no religious affiliation or are Buddhists, Taoists or Confusionists. There are also populations of Christians, Jews, Sikhs, and Hindus, amongst others.
Hong Kong is a "Special Administrative Region" of China, meaning it has its own economy, laws, currency, judicial system and political system. It has a thriving capitalist system with low taxation and free trade, and its unique position as the capitalist gateway to China has resulted in a thriving economy with one of the highest per capita incomes in the world. Hong Kong also boasts high international ratings when compared to other countries in the world for quality of life, economic development, lack of corruption and its well developed (and cheap!) public transportation system.
International school places are highly competitive, so teachers with dependent children may have some difficulty finding a school job. Despite this Hong Kong is still an extremely popular place for internationally bound teachers who wish to teach abroad, so teachers who are newly qualified and those without significant substantive teaching jobs on their CVs may find it difficult to secure a post in an international school.
Hong Kong is a travellers dream and attractions include the Tian Tan Buddha, the Chi Lin Buddhist nunnery, Disney World Hong Kong, Ocean Park amusement park, Tai O traditional fishing village on Lantau island, visiting the Tung Wan and Cheung Chau beaches for swimming and windsurfing and mountain biking or walking on Lantau Island. With high-speed rail, it is possible to travel to Mainland China in 20 minutes.
There are a huge variety of restaurants, pubs, nightclubs and cafes to choose from in Hong Kong and similarly a wide range of shopping venues from glitzy malls to lively street markets. The cost of living in Hong Kong is relatively high but bargains can be had once you know where to look. Salaries tend to be similarly high so a good standard of living can be achieved provided you also have a good housing package. International school jobs can be academically demanding and work hours tend to be relatively long so you will earn your salary.
Hong Kong is a vibrant country and one that is easy to live in. It is at once both familiar and different which is why it has so many fans around the world. Teachers lucky enough to land a job in Hong Kong will find a large expatriate network and will be spoilt for choice every weekend when deciding how to spend their free time.