Edvectus White Paper
Market Intelligence: International School Recruitment – Impact of Covid-19 on 2021-2022 Staffing
Recruitment for international school staff takes place 6 months to a full year before deployment with many schools in recent years moving their hiring as early as possible due to looming teacher shortages. The recruitment season that used to start in January now starts in November. Now with the first Covid-19 vaccines receiving approval in key source countries such as the UK, Canada and the US, an end to this stage of the pandemic appears to be in sight. However, even if many countries can return to near-normal by next academic year, the effects of Covid-19 on teacher recruitment to international schools will be felt well into the future.
Demand Side Factors – uncertain enrolment
Over 80% of international schools serve a host national population, and thus the host economy can have a large impact on the number of school places at international schools. Record drops in oil prices and damage to the travel and tourism industry have resulted in most countries teetering on the brink of recession[i]. A recent report by UNCTAD published on 19 November 2020 indicates the global economy will contract by 4% in 2020. [ii] How and when recovery happens worldwide will depend on the resiliency of each country's economy.
Examining the two biggest demand-side markets- the Middle East and the Far East – it is apparent that the impact of Covid-19 has already been felt. Edvectus job vacancy data from September to December 2020 shows the number of available jobs fell by 11% compared to the same timeframe in 2019 but the effect has not been equally distributed between the regions nor between types of teacher.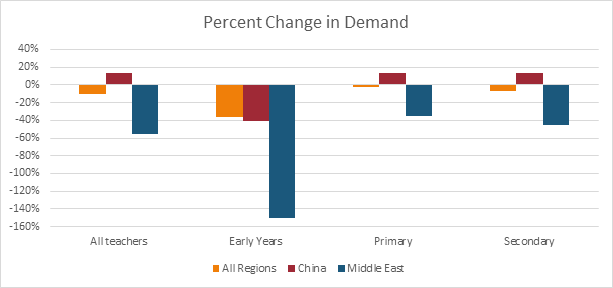 Figure 1: Change in number of jobs by region Sept-Dec 2020 vs 2019
The Middle East has seen a 55% drop in job orders compared to the same time last year. Schools in the region are still reeling from the impact of declining enrolment and, because of online or mixed mode teaching, need fewer teachers. Visibility into future enrolment is uncertain at the best of times in this region, and fewer schools are willing to take risks and hire speculatively.
China, on the other hand, has seen an increase in jobs as their economy is one of the few that grew in 2020. Already growing at a very fast pace before the pandemic, the current demand is largely driven by bilingual schools that teach the Chinese curriculum blended with international per government regulations. These schools have high fees and offer high salaries to their desired teachers. Although many are sporting an international brand name that belies their blended nature, they often find it more difficult to attract teachers without an established track record in China, and an inability to accommodate the children of teachers. Schools in this region, knowing the challenges, are acting early in an effort to snap up the best teachers on the market.
The types of teachers being hired post-Covid has also changed. Early Years teachers, who had previously been in exceptionally high demand for the past 4 years, are in much less demand now as parental desire for these non-compulsory school places is still uncertain for 2021. In the Middle East the demand for Early Years teachers has dropped precipitously. Will parents have the means and the will to send their children back into school, or will they decide to save money and reduce risk by keeping them home? Schools appear to be hedging their bets and holding off until visibility increases.
For Early Years staffing, the drastic difference between demand in previous years and 2020 might indicate an acute future problem looming, especially in the Middle East. If the demand for teachers of any kind unexpectedly increases with the advent of a vaccine in 2021, many schools could be caught short as the number of available teachers declines as the school year progresses.

Figure 2: New Teachers registering to teach abroad over time
Core academic subjects have been in most demand so far, as schools look to cut costs, de-emphasising less popular, less critical and less academic subjects. Secondary English, Maths, Science have all had robust demand, whereas non-core subjects such as Physical Education, Arts, Humanities, Special Needs and Modern Foreign Languages have dropped in demand between 25% and 80% compared to prior year. Leadership vacancies at all levels have seen a 25% drop, reflecting less movement of staff and elimination of positions.
Stringent bachelor's degree matching requirements in a number of Middle East countries have restricted the market even further, excluding many otherwise suitably experienced and qualified teachers. Right now the impact is not being felt acutely due to the depression in demand, but if this changes with the advent of a vaccine and/or clarity in enrolment schools might find themselves scrambling to find teachers they can actually hire. This shortage will be especially acute for Mathematics, Science and Computer Studies/ICT which suffer from a historical bachelor's degree graduate shortage in key countries such as the US and UK. The Middle East market usually hires later in the season compared to the Far East, and the possibility of getting caught short from March onward is marked, especially for STEM subjects.
Supply Side Factors- Teachers are tired of uncertainty
Teacher numbers are down 30% year on year from September to December compared to last year. Furthermore, those teachers on the market are much less willing to take risks. They are asking more questions before and after interview and they are very specific about the kind and location of schools they will consider. Most are happy to stay put rather than make a risky move. The more career-orientated teachers with consistent experience are choosing to stay home in larger numbers, because they have good jobs to keep, and lots to lose if a repeat of last year's rescinded contracts and travel difficulties occurs. Hundreds of stories of woe flooded the forums last year, causing a lack of confidence in a written contract or offer letter. These early season teachers are the most highly sought teachers, normally available only earlier because they are strategic planners and researchers who think well ahead they are focussing on well-known locations such as Dubai, Thailand, Singapore, Beijing and Shanghai. These are places that are well understood and feel 'safer' from a Covid-19 perspective with lower numbers, a controlled response to the epidemic, and a well-developed infrastructure. Teachers this year are less tolerant of uncertainty, and unwilling to make choices that feel risky in any way. The numbers of job applications within the two largest regions illustrates the change.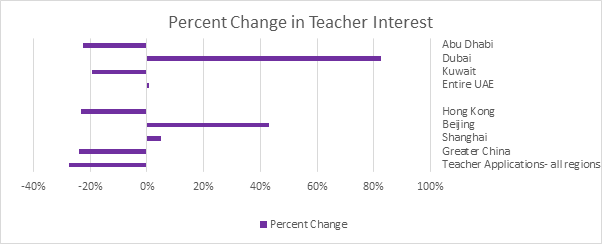 Figure 3: Change in number of applications by region 2020 vs 2019 September to December
Notable trends this year are an increase in interest in Beijing, a decrease in interest in Hong Kong and in 2nd and 3rd tier areas. Beijing in past years had been the subject of terrible press in the west, mainly focussed on pollution. Now with the Beijing winter Olympics looming and bigger news stories afoot, Beijing-bashing has subsided and more teachers are happy to consider it. The only catch is a growing perception of racism in the Far East, which is causing larger numbers of ethnic minority teachers to discount it outright.
In contrast to Beijing, the shine has come off Hong Kong which used to draw prospective applicants in Dubai-like proportions. We believe the impending 'Chinafication' of Hong Kong and civil unrest are putting people off. Finally, teachers are preferring larger well known cities rather than 2nd or 3rd tier cities in most countries, and we believe this is an attempt to again limit uncertainty in a very uncertain world.
All of this means that the 'winners' will be the best known holiday type locations in areas with a well-defined response to Covid-19 such as Dubai, Beijing, Singapore and Bangkok. Schools that will experience a far more difficult time will be those in 2nd and 3rd tier cities in China, traditionally less popular locations such as Kuwait and Egypt. Regions that are believed not to have brought Covid-19 under control will suffer, as will those that are anticipated to have a slower inoculation rollout or less developed public healthcare systems, such as many Latin American and South Asian countries.
With the pool of available teachers quite shallow combined with a lack of visibility to enrolment next year and a return to normal teaching in most countries from September, we expect a severe lack of teachers available to hire from March onwards. Schools in China, which historically plan and hire well ahead, are out in force now hiring the best teachers for the best salaries in the marketplace, leaving many forward thinking schools to wonder how they will fill all of their vacancies in an uncertain environment.
How to prepare
Understanding one's foothold in the market, and trends in supply and demand are essential to creating an effective recruitment strategy. Each year the market is different, but the effects of the worldwide pandemic have been disruptive. More than ever this year, school leaders will be caught between wanting to be fiscally responsible, planning for the worst, and needing to hire the best teachers when they are available.
Hiring as early as possible, and knowing how the market is likely to change over time is the best way forward. If a school is lucky enough to be in a highly desirable area, it will have more options and a longer teacher availability. However, if the school is outside of these areas or less established or in a region with very restrictive MOE criteria, the shallowness of the teacher supply pool will quickly become apparent in the New Year. Whilst both demand and supply have dropped, the timing of teacher availability is highly cyclic. We anticipate many schools will be later than normal to confirm all of their vacancies, and in a number of cases, this confirmation is likely to happen after teacher supply has dropped precipitously. The underlying mismatch between supply and demand of western trained international teachers will quickly appear.
The best way to prepare is to hire as early as possible and take some calculated risks. Knowing that the long-term shortage of STEM teachers is still impacting the market, particularly in the Middle East where very specific bachelor's degrees are required, hiring good STEM teachers speculatively might be justifiable risks to take. The looming uptake in demand for Early Years teachers, another shortage category, should also be kept in mind. Large numbers of qualified Early Years teachers are unlikely to be on the market in the spring.
Video interviewing is taking the place of job fairs, and this is not without its challenges. Not all teachers can access Zoom, particularly those already abroad in China and the Middle East where it is blocked, as is Whatsapp and Skype. In China, WeChat is the go-to app but it's not easily available outside of China. Schools are trying any number of other options such as Microsoft Teams and even Zomo in China, and each requires a teacher to navigate around a different system. Providing prospective teachers with a step-by-step 'how to connect' will solve issues before they start, ensuring less wasted time for all parties.
Finally, your HR teams should be prepared to answer more questions from every teacher earlier in the process. Developing an FAQ (Frequently Asked Questions) sheet will save much time and effort. Teachers will definitely need more reassurance this year, so you are best to proactively address as many questions as you can.
If you have recruitment needs, please feel free to contact Edvectus. You will not pay a fee unless we find a teacher you wish to hire, enabling a safety net during an uncertain year.
Get prepared. Contacts us for more information and to get a quote:
Middle East, Africa, Europe:
Neil Ollier
Email: neil@edvectus.com Phone/whatsapp; +971 (0)50 55 88 965
Asia, Eurasia, Americas:
Abby Gormack
Email: ag@edvectus.com Phone/whatsapp: +61 (0)421 961260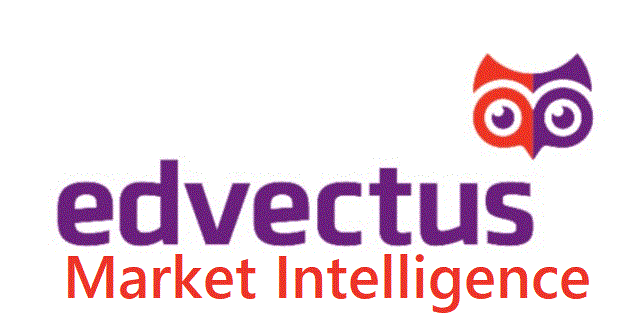 ---
[i] https://www.bbc.co.uk/news/business-51706225
[ii] https://unctad.org/news/covid-19s-economic-fallout-will-long-outlive-health-crisis-report-warns