China Week 2019
A Guide to The Year's Best Overseas Teaching Opportunity
Once again, it's our favorite time of the year...China Week! China has more than international schools than any other country - with 900+ and counting - and offers foreign teachers some of the highest salaries and best benefits packages in the world. The cost of living is also very low, making it an extremely lucrative option for teaching overseas. Learn more below, or view all our vacancies in China here. (If you've already decided that China isn't somewhere you'd like to teach, you need to read our article Teaching in Asia: Fact vs. Fiction right now. It clears up many common rumors and misconceptions.)
WHY CHINA?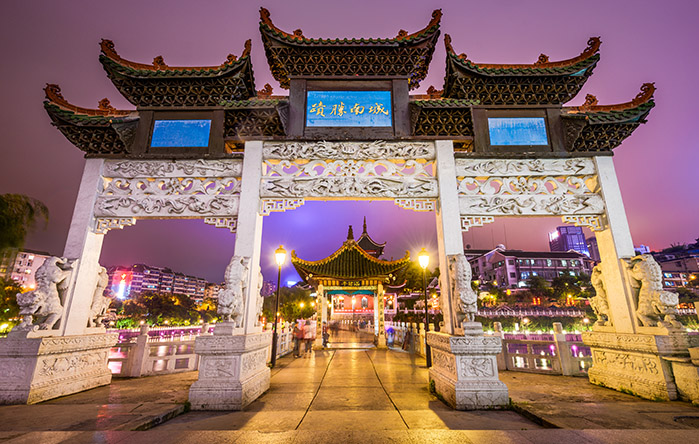 China is an economic powerhouse. In just 40 years, the country has risen from the ashes to become the world's second largest economy. In 1978, China's GDP was equivalent to Zambia and the country had a 22% illiteracy rate. Today, the total wealth of China is rising at more than double the rate of any other nation and individual wealth is skyrocketing.
China has more strength, security, and cashflow than ever before and this explosive growth has created an ever-increasing demand for private education. As a result, the need for qualified western teachers is surging - and so are the salaries. With its deep history, varying landscapes and abundance of opportunity for both personal and professional growth, there's no better time than now to pursue an international teaching career in China. Here are a few more reasons why China is a solid choice:
Academic Focus
Culturally, the Chinese have an immense respect for educational attainment. Forget wheedling answers out of sulky teens - you will find that both expatriate and national students take their learning very seriously. Teaching is a well respected profession in Asia, and you will find yourself treated with a refreshing degree of reverance from students and parents alike (especially if you are teaching Chinese children). This makes work less stressful, more productive, and more rewarding.
Greater Savings
The general cost of living in China is roughly 45% less than the USA, UK, or the United Arab Emirates (the last being one of the most popular destinations for overseas teaching). Chinese schools offer comprehensive packages including flights, housing, medical coverage, and more. When tax is paid at all (some packages are tax-free) it is very low, around 15%. Thanks to these lower costs and without the expenses of rent and medical coverage, you can see just how easy it is to save more money in China. Still not convinced? Take a look at our article The Cost of Living in London vs. Shanghai for a breakdown and some great examples.
More Travel
China is a huge country with cheap high-speed rail links and some truly breathtaking sights to see. From the Terra Cotta Warriors and the beaches of Yalong Bay to the Longtan Valley, China is bursting with beauty that most westerners never have a chance to set their eyes upon. Check out this list of 40 beautiful places to visit in China to get an idea of what's waiting for you. Also, depending where in China you're located, there are plenty of low-cost travel options in the immediate region such as India, Nepal, South Korea, Thailand, Vietnam, Malaysia, Singapore, Japan and more.
China is a crazy, wonderful place that is as busy and as frantic as you can imagine. You will often see some sort of death-defying stunt, such as the amount of items that someone will try to carry on their bike or someone reversing the wrong way down the road but it is also a land of great opportunities. Not only can you travel extensively and inexpensively throughout Asia but you can also save a great deal. My family have been in Guangzhou for about 2 years now with both my wife and I teaching. We have been able to save one of our wages whilst still going on holidays and having an active social life. The children love it here and there are plenty of activities available for them to take part in. We have a close community of expat teachers and that is certainly a big bonus. As with anywhere it can feel a long way from home but with the excellent wages, the travel opportunities and the opportunities for career advancement available it really is an exciting place to live.
THE 3 DIFFERENT TYPES OF SCHOOLS IN CHINA
Schools for the Children of Foreign Workers: These schools can only be attended by children with expatriate passports. Before 2013, this accounted for the majority of the international teaching opportunities in China.
Private Schools: These schools serve mainly Chinese children and each school addresses the market differently. This part of the international school sector is also the fastest growing, thanks to the surging number of Chinese millionaires who want their child to have an education that can take him or her to the world's top universities.
TEFL Schools: These programs specialize only in teaching English as a foreign language. They offer a much lower salary and are not considered international schools but they do have housing/benefits packages. These jobs are open to anyone from a native English-speaking country who has a Bachelor's degree. Learn more about TEFL.
CONTRACTS AND SALARIES
Teaching contracts in China typically 2 years long. Salaries vary, but are among the highest of all international destinations for teachers and include impressive benefits packages. Free flights are included at the beginning and end of your teaching contract, and some schools provide yearly flights home allowing you to return for the summer. Housing is provided for free either directly by the school, or by way of a housing allowance and help to secure housing upon arrival. Some benefits packages include all utilities (internet, water, heating/cooling, garbage services, etc.), but this is not always the case. Other benefits which vary by contract include transport to/from school, free tuition for dependent children, performance bonuses, and end-of-contract bonuses.
Salaries are rarely tax-free but taxes in this part of the world are usually graduated. This means the more you make, the more taxes you'll pay. Overall, taxes in China are quite low when compared to western standards - somewhere between 10 and 15% of your income for a typical teacher's salary.
WHERE TO TEACH IN CHINA?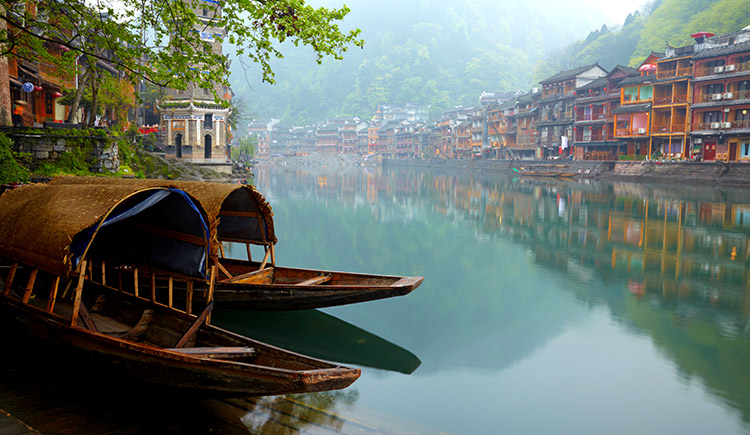 With its variety of city, metropolitan and rural areas plus multiple climates, there's something for everyone in China. There are pros and cons to each location, and your decision on where to teach may be reflective of your lifestyle. Likewise, if you're from a big city you may opt for a rural area - or vice-versa. There are enough job openings that most teachers find themselves with several options, however, the more flexible you are, the better your chance of landing a contract.
Here are some important aspects that might broaden your knowledge of this beautiful country and help you decide where you may want to teach.
THE GENERAL INFO
Climate and Geography
China is a big. In fact, it's slightly larger - about 2.2% larger - than the US in land mass. While most people are familiar with Shanghai or Beijing, those cities are comparable to New York or Chicago in that they only represent a very small part of the country. There's much more to China, including hundreds of medium sized cities and thousands of suburban and rural areas with high demand for western teachers. From snowy mountainous regions with cold winters to lush tropical beaches, gorgeous wetlands and everything inbetween, China is very diverse in its climate and geography. Each area has its respective culture and activities which often reflect the climate. The climate zones are as follows:
Cold-Temperate Zone: northern Heilongjiang Province and Inner Mongolia (Representative City: Harbin).
Mid-Temperate Zone: Jilin, northern Xinjiang, southern Heilongjiang, Liaoning, and Inner Mongolia (Representative Cities: Beijing, Shenyang, Dalian, Urumqi, Hohhot, Dunhuang, and Lanzhou).
Warm-Temperate Zone: Shandong, Shanxi, Shaanxi, and Hebei Province (Representative Cities: Xian, Taiyuan, Luoyang, Jinan, Qingdao, and Zhengzhou).
Sub-Tropical Zone: South of Qinling Mountain-Huaihe River, east of Qinghai-Tibet Plateau (Representative cities: Shanghai, Guangzhou, Hong Kong, Guilin, Hangzhou, Macau, Suzhou, Kunming, Dali, and Chengdu).
Tropical Zone: Hainan Province, southern Taiwan, Guangdong, and Yunnan Province (Representative cities: Haikou and Sanya).
For a fully detailed high-resolution map of China (be sure to click and zoom in), plus a provincial map and additional major city and regional maps, click here.
Activities and Entertainment
Every region, province and city of China varies from the other in what's available in terms of outdoor activities and entertainment. In the tropical and sub-tropical regions you'll find more watersports and beach-related activity to engage in and these areas are excellent for anyone interested in beach volleyball, scuba, or similar activity. In the northern-most areas of china, hiking or mountain-biking might be excellent summer choices while skiing or snowmobiling are common during the winter months. Similar to North America or Europe, there are endless general activities and events to keep you occupied in your free time. If you like the outdoors, there's no trouble fishing, swimming, kayaking, bird-watching, rock climbing, etc.. If theater, cinema, concerts, cafes and museums are your thing, dont worry - there's no shortage of these either, but they're concentrated in the larger cities.
One of the best things about this country is the extensive amount of ancient ruins, artifacts, historical sites, and jaw-dropping landscapes to see. Here's some of our favorite places and things to do when in China:
There's simply too much to list, but an excellent info-packed article for starters is The Top 10 Travel Destinations in China for 2019. You might find yourself overwhelmed with amazing sites and activities in China because there's so many interesting things to see and do!
Food and Culture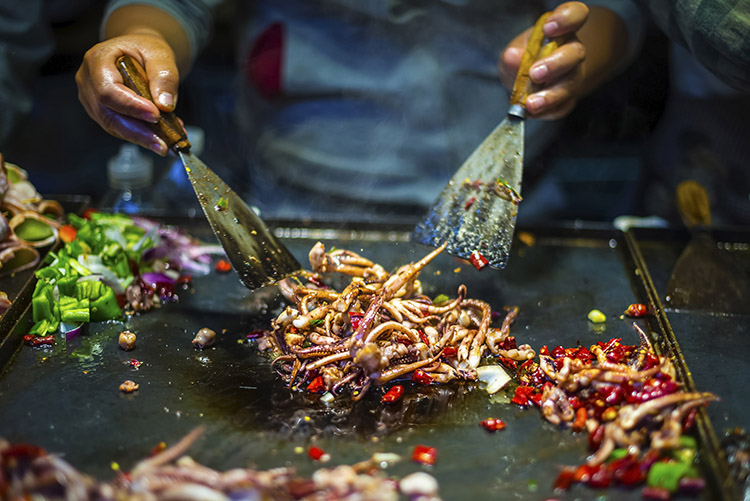 The rich history of China makes for quite the experience when it comes to food and culture. As the famous French sinologist Jacques Gernet has stated, "There is no doubt that in this world, China has shown a greater inventiveness than any other civilization." Indeed, Chinese are among the peoples of the world who have been particularly preoccupied with not only food and eating, but with their traditions, methods, and cultural practices.
While both the cuisine and behavior have evolved since ancient times, they're still deeply rooted in traditional Chinese culture. China has a vast territory and abundant resources, with each region having its own natural products and folk customs. This results in broad variations in the behaviors and methodology of both cooking and day-to-day life. Social and business practices can vary from region to region in the same way that the cuisines and specialty dishes vary.
In southern China where rice is farmed, rice is used and eaten as a staple food, usually steamed. In Northern China, which is a wheat farming area, people normally eat flour-based food, like noodles, mantou (a kind of steamed bun) and dumplings. As far as flavor is concerned, the whole country can be generally divided into four parts: the sweet south, the salty north, the sour east, and the spicy west. One thing is for sure - no matter what area you're in, Chinese food is some of the best in the world.
Social practices and tradition in China can seem mildly to wildly different, dependent on the area, set and setting. While westerners are always adapting and trying to be acceptant, innovative, and trendy, the Chinese have a tendency to stick to their millenia-old traditions. This is true of both social and business standards, which can sometimes be confusing or even frustrating for westerners living or doing business in China. In all reality, this is a respectable trait (although it may seem unusual to some and take a bit of adjusting). Chinese are generally quite friendly and welcoming people. They are also very aware and curious, and you may find that your mannerisms or clothing seem just as strange to them as theirs seem to you. However, don't be offended if you receive an odd look and don't be too shy to strike up a conversation or make a friendly gesture - it can go a long way.
WHAT TEACHERS ARE SAYING
"I am currently living and teaching in Beijing, China. Overall, I love the atmosphere and inviting presence of the school and it's also in a great location. My daughter and I are really enjoying our time here. I have had many positives since coming to China. The biggest positive is that I'm actually enjoying teaching more than I did when I was in America. Here in China, I feel valued and respected as a teacher" - EP
"Shanghai is a very easy city in which to relocate! There is something for everyone and a large expat community in which you can be involved compared to other cities in China. My school made me feel welcome immediately. On my first day I felt like I had been here for years already. Very helpful in providing a comfortable transition.... If you are from a smaller city, be prepared for large crowds everywhere you go. You get accustomed to this pretty quickly, but if you do not do well with large crowds it may be difficult at first. Research Chinese culture before you arrive. So many amazing foods, traditions, etc., so be open minded and give it a shot! If you find local foods that you like, your pocketbook will love you! Don't be phased by people staring and taking photos as they are just intrigued by obviously different appearances. They aren't judging, they are just curious!" - KM
"I am really enjoying the location of the school - we are very close to the center of Shanghai, and there is always something exciting happening in the area. If anyone is on the fence about moving to Shanghai... take the plunge! Life is so easy here. For any NZ teachers - the workload is almost halved here! I don't take work home in the evenings or on the weekend. I finally have a work-life balance! The biggest positives are the location and the people - I started with a great group of new teachers and we have all become very close. The students are great too, they are very well behaved - there are very few behavioral problems." - AC
"What I like most about my school is the trust in the teachers to do their jobs and the support I have found when I have any questions or any confusion. Beijing is a bustling busy place which is full of all types of experiences. I'm still getting acclimated but I am enjoying exploring. The challenges have been the language barrier and getting around in the city - specifically cabs. I haven't found any culture shock per say, but I consciously made a decision that the first few months I would just try to experience this place and country before saying I liked or disliked anything. I would encourage that mindset to others as well because it is a very unique place." - AP
GETTING A TEACHING JOB
If you're finding China to be an interesting option, the best thing you can do is Apply Now. Our services are 100% free for teachers and always will be. Our team is composed of ex-teachers, and everyone who works at Edvectus has either taught and/or lived abroad for extended periods of time. With over 50+ years of combined experience in education, we're more than your average recruitment agency. As specialists, we want you to succeed in your teaching career and we make it a point to lend you our knowledge and experience to the fullest extent. If you're not yet ready to register, you can still view all of our teaching jobs in China right now.
OTHER RESOURCES
In a country as large as China, it's not possible to cover everything necessary to help you choose which region would be the best for you to teach in. With that said, here are some helpful links and tools to learn more.
Teaching in the Far East
China Travel Guide: Basic Facts About China
China (Wikipedia)
Chinese Culture (Wikipedia)
Chinese Cuisine (Wikipedia)
Cost of Living: China vs. USA
Cost of Living: China vs. UK
Chinese Currency Converter
Apply Now to Start Your International Teaching Career in China!