Case study- American teacher in Hong Kong
Edvectus Case Study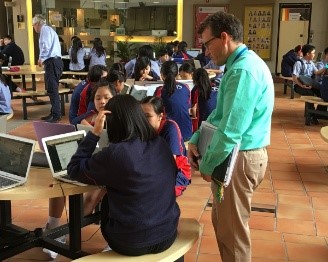 Subject: Year 7 Middle School English and Humanities
Citizenship: USA
Located in: Hong Kong
Is Hong Kong what you expected?
Despite being a city of 7 million, it is a much smaller place than I expected because of the distinct neighborhood feel to the different areas of the city. I live in Hung Hom, which has its own blend of small shops and markets standing alongside the big chains; it is only 10 minutes away from my work as a result of the MTR. It is also very safe here.
Why did you decide to teach abroad?
I had taught the same subjects for 10 straight years in the same school, and I was ready for a change. I also wanted a challenge. I wanted to find out about the larger world beyond the small corner of the United States where I had lived for 18 years.
How did you find your job?
I interviewed with Edvectus, and I received advice on countries that would likely meet my salary expectations based on my years of experiences. Originally, I was only looking towards the Middle East, but I was encouraged to consider China as well. I was then referred to this opening at a school in Hong Kong.
Did the website and Learning Portal help?
I found the web site and its information to be helpful. I also used the services of an associated company to get an expedited federal criminal check.
What do you like about your new job and location?
I like the students the most. They appreciate their teachers. I like my school; it is hard work to adjust to a new system, but I am learning a lot. I like Hong Kong. It is 70 degrees Fahrenheit here in December, there are many beaches, and it is a colorful city. Learn as much as you can before you go, travel light, and expect the unexpected. The more flexible you are, the more wiling you are to learn new things, the easier you will make it through the difficult days as you adjust to a new culture and a new school. It will never be exactly as you expect it to be, but if it was, it wouldn't be an adventure.