Brunei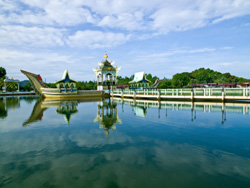 Currency
Bruneian Dollar http://www.xe.com/currency/bnd-bruneian-dollar
Government
Constitutional Monarchy
Climate
The climate of Brunei is hot and humid and constant throughout the year. The average daily high ranges from 30°C in December and January to 32°C from April to August. The average overnight low stays in an even narrower range, from 22°C to 23°C, all year long.
School year
Terms run from August or September to July in international schools, and state schools run from January to November
What teachers like best about it?
Low cost of living, good quality housing, travel opportunities to nearby Malaysia, and the laid-back lifestyle.
What teachers like least about it?
Split weekend in state schools
Description
Brunei is a small but very rich country on the island of Borneo, which it shares with its neighbours Malaysia and Indonesia. A former colony of the UK, from which it gained independence in 1984, the economic growth of Brunei has been quite astounding. Under the stable leadership of Parliament and the Monarchy, headed by the Sultan of Brunei, the country has become a favourite destination of teachers wishing to teach abroad in a friendly and relaxed environment.
Teaching is a very well respected profession in Brunei, and teachers here will find that the high esteem in which they are held makes life in Brunei quite pleasant. Teachers can work in international schools, or as English teachers in the many state schools through well-established government programmes. Bruneians are friendly and accommodating, and eager to share their culture with others and most teachers who go to Brunei make the choice to renew their contracts again and again.
The culture of Brunei is mainly Malay, and the state religion is Islam though freedom to practice one's own religion is a right. 67% of inhabitants are Muslim, 13% Buddhist and 10% are Christian. Brunei is one of the few countries to have a split weekend – Friday and Sunday are weekend days, and Saturday is usually a shortened day, but international schools may revert to a Saturday/Sunday weekend. The sale of alcohol is banned, but non-Muslims are allowed to bring in alcohol for private consumption.
Brunei has something for almost everyone – inexpensive restaurants for eating out, cheap western style housing, beautiful secluded beaches, animal sanctuaries and inexpensive travel to nearby Malaysia, Indonesia, Singapore and more. Brunei has some of the most intact primary rainforests in all of Borneo, home to orang-utans, gibbons, hornbills and butterflies yet its cities boast all the desired western amenities.