New York's Common Core Standard Ignites Dubai
Ignite School of Dubai, U.A.E. has announced that it will be following the New York State Common Core learning standards when it opens its doors for the first time in September 2018, making it the third new school in Dubai to align itself with New York curriculum.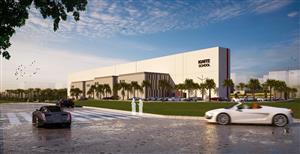 The number of new private international schools in the United Arab Emirates continues to increase yearly making the region a vibrant location for teachers while making Dubai the most popular Emirate. "Most teachers select Dubai as their first choice location when teaching abroad", said Diane Jacoutot, Managing Director of Edvectus Recruitment which is overseeing the initial staffing of Ignite School, "They like the tax-free salary, free housing and medical insurance, and find that Dubai is a very westernised, easy place to live and work. There are so many things to do on weekends and almost everyone speaks English".
What makes the New York standards so popular?
"Our market research indicated that there is a shortage of quality mid-range US curriculum schools in Dubai. We looked at many different state standards, and felt that New York Standards were robust and educationally sound", said Jason Kirwin, COO of the holding company which is building Ignite School. "In addition, it is a large and populous state, giving us a larger pool of potential teachers from which to hire. This is an important consideration when starting up a school because the quality of your staff means everything".
International schools throughout the middle and far-east utilize western teachers to deliver North American or European curriculums, lessons and methodologies. This approach prepares their students for pursuing higher education abroad - particularly students whose parents were internationally educated, or see a high value in readying their children for a growing global marketplace.
"We're on the leading edge of both culture and education", explains Jacoutot. "Thirty years ago, international schools were only for the elite expatriates. Anyone else who wanted a western education had to migrate, which posed its own problems. Today, the number of international schools are growing almost exponentially. This provides the accessibility of western education standards in almost any country while allowing children and young adults to be raised in their traditional culture. It allows them to have a family life, to know their roots – but also allows them the ability to acclimate quickly when pursuing university or doing business abroad in the future."
As for Ignite School, they've made an innovative decision by choosing New York's curriculum – one which is a growing trend. Students from these schools will go on to attend any number of international Universities and hopefully become the next generation of international leaders.
With great job prospects in an exciting international context, the future abroad for New York certified teachers looks rosy indeed.
For more information about Edvectus and positions at Ignite School in Dubai, visit www.Edvectus.com to register today. "We offer a valuable service to teachers and it's completely free", says Jacoutot. "It's a win for NY teachers, a win for the children, a win for the school, and a win for the parents."