Kuwait Week at Edvectus
Teaching jobs in Kuwait? Of course! But what do you really know about the country? While you may think of Kuwait as a country known only for its oil reserves -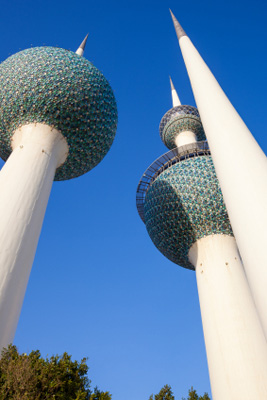 or where the Persian Gulf War took place in the 90's - Kuwait is a thriving and suprisingly conservative country with a welcoming culture which dates back to ancient times. For hundreds of years Kuwait served as nothing more than a mere resting place for Arabic nomads, but in the last 200 years has developed into an urban environment with places such as Kuwait City (the capital) featuring modern skyscrapers and a convenient infrastructure.
While living in Kuwait is certainly very different than living in a western country, it might not be what you think. Let's take a deeper look at Kuwait and what it has to offer for anyone who's considering teaching there.
The People of Kuwait
With a population of under two million, less than 50% of its residents are actually Kuwaiti nationals, providing a diverse makeup of Egyptians, Jordanians, Lebanese, and more. Unlike other countries in the middle-east, women are involved in the labor force but usually only in positions such as teachers or other social services. Unlike Saudi Arabia, women can choose what to wear, although many still dress in traditional garb. While most of the population is Muslim, around 15% of the population freely practice Christianity, Hinduism, and other religions.
Kuwaitis generally sit, talk, stand and occupy space more closely than westerners do. This can be a bit uncomfortable at first but it's not overwhelming for most people. Also, while it's common for members of the same sex to make physical contact, this is not acceptable between men and women in a social setting. Among the primary concerns for Kuwaitis is honor, respect, and a good reputation. Kuwaitis are generally wealthy, however, there is also a much poorer class - as is usually the same with many developed country. Overall, you'll find that while some Kuwaitis may not jump at the chance to converse with foreigners, they are a welcoming country of respectful people.
The Geography and Climate of Kuwait
The country occupies a small area with Iraq to the north-northwest and Saudi Arabia to the south-southwest. The eastern border of Kuwait sits directly on the Persian Gulf and features about 310 miles of coastline. The geography is mainly desert and so naturally the climate is hot and dry, with short but much cooler winters. Due to the extremely hot days, all buildings have air conditioning - which is a welcomed relief. You'll also notice that people prefer to stay inside during the daytime hours and are out-and-about much more during the evening as the temperature begins to cool.
What to do in Kuwait
Kuwait isn't a hotspot for tourism so there's not a huge selection of extravagant activities to partake in. With that said - and depending on your hobbies and personal life - you won't be bored to death. With such large numbers of foreigners and expats living in Kuwait, it's rather easy to meet people from your home country. Likewise, working as a teacher at an international school means your co-workers will also be foreigners who you'll likely end up spending time with. There are also many expat groups (and here's another list of groups) and gatherings as well as resources for expats to familiarize yourself with the local expat culture.
One thing that many people find unattractive about Kuwait is that alcohol is forbidden. While many locals spend their free time eating in restaurants, at the cinema and wandering the malls for shopping, there are still plenty of things to do in Kuwait. One place you definitely won't want to miss is Souq, a traditional market in Kuwait City where you can experience shopping for local goods, anqtiques, traditional clothing, crafts, food, and more. The Tareq Rajab Museum is another must-visit place featuring many interesting an exquisite pieces including ancient arabic clothing, art, jewelry, musical instruments and a extremely impressive display of beautiful textiles. Other worthy mentions include the House of Mirrors, The amazing architecture of Grand Mosque, and Al Boom - a restaurant uniquely situated in the hull of an boat.
When you'd like to take a more physical excursion, you can always rent waverunners or go horseback riding in the desert. If you're looking to spend a shorter time on basic weekend activities, it's easy to rent a paddleboard at the beach, purchase a day-pass for a hotel pool, go kayaking, or take a visit to one of Kuwait's 9 islands. There are even expat groups for softball, rugby, cycling and mountain biking. This could be the perfect chance to take up a new hobby or get certified in scuba diving.
Cost of Living
Pay for teachers in Kuwait is often better than the UAE, and the cost of living is generally much less than living in western countries. To get a better idea, check out the following information about the cost of living in the US vs. Kuwait. Generally speaking, it's much more affordable to live in Kuwait which means you'll be able to save more money while working there.
Overall Life in Kuwait
For a teacher, life in Kuwait can be very interesting. There's a lot to learn at a cultural level and there's plenty to experience. It's a safe country with good infrastructure and readily available services, and is just a short flight from many other middle-eastern countries making it easy to take a weekend trip away. Like living in any foreign country, Kuwait has its challenges but if you're the adventurous type, you'll make due just fine there and you'll probably fall in love with some of the delicious local foods as well.
Thinking about teaching in Kuwait? Want to learn more about the opportunities available? Visit our website at www.Edvectus.com for more information and to register now. Our service is completely free of cost for teachers and includes access to our exclusive Learning Portal, full of helpful information and resources for living and educating abroad. You can also visit our Youtube channel for tons of helpful videos including school visits, interviews with teachers, and general info about teaching abroad. To learn a bit more about Kuwait, and what it offers, check out our Kuwait Week posts on facebook.
Requirements for a Teaching Job in Kuwait
Kuwait Ministry of Education is one that requires "bachelors degree matching", meaning your bachelors degree has to be directly related to your teaching subject. Mathematics teachers need a degree in Maths, or a B'Ed with significant Mathematics coursework, etc. Elementary/Primary teachers need either a B'Ed, or a post-graduate teaching qualification plus a bachelors degree in a subject taught at Primary/Elementary level such as English, History, Mathematics or Science. If you are unsure (and there is a lot of gray area as you might expect) your Edvectus consultant can help.
See All Current Jobs in Kuwait: https://www.edvectus.com/joblist/vacancies?locationId=527&sectorId=49