How to Successfully Chart the Seas of an International Teaching Career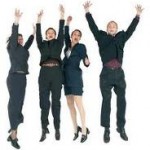 So you've slogged your way through hellish teaching placements where the status of trainee teacher is akin to wearing a massive 'L' plate (for non-Brits this an embarrassing sticker all learner drivers must have their car brandished with) and those more experienced and doubtless jaded shunt you at every turn. Your nerves have weathered the relentless storm of brutal observations and now the flickering light at the end of the tunnel which you have squinted at through heavy lids as a beacon of hope for the last year is in danger of being snuffed out by student debt, wages that make the work to reward ratio at the fast-food joint you worked at through college appear comparatively favourable and the ever-growing stacks of marking on the kitchen table.
The solution: go international. Of course we all know the dangers of seeking the balmy delights of sunnier climes or the adventure of an exotic destination to remedy discontent. However teaching abroad provides more than just an ex-pat oasis for knee-jerkers who have jumped shipped after a couple of bad placements. With a burgeoning new market for local international schools in many regions of the Middle East, the introduction of an IB curriculum in many more educational establishments in the West, the wholesale export of some of those very same establishments to locations such as China and the increasingly globalised perspective required of the highest-flyers in all sectors, international teaching experience really can be the fuel needed to propel your career quicker than your peers.
By carefully charting out your career as an international educator you will be able to navigate your career and steer towards bountiful new destinations like Columbus, however if you just stick a pin in the map and aim for the nearest international school that will take you, you may end up more like a half-cut Jack Sparrow festering away on some God forsaken island wondering what happened to the treasure. If you are serious about gaining valuable and career enhancing positions, it is important to do your homework and be realistic. As much as you would like that gold-plated job at that highly-esteemed international school in Hong Kong, inevitably they have the pick of a rather large bunch which includes those with years of experience under their belt. This doesn't mean you must resign yourself to staying at home but you must identify the steps you need to take to climb a career ladder that has a slippery first rung. If you get your footing right from the beginning and keep your eyes fixed on where you want to end up you'll have a much better chance of making sensible and rewarding career choices.
At Edvectus we work closely with each individual teacher to help them identify what they want to achieve professionally, how this balances with their personal lives and how they can successfully achieve these goals. If you play the game right you can secure that gold-plated job in your dream destination, just don't expect to do it on your first move. The mistake often made by teachers is to view teaching overseas as a career break, rather than an opportunity to bolster their CVs, gain unique insights into teaching in a different context or a different curriculum and a chance to build a long-term international career if so desired. We are in it for the long game and are equipped with the knowledge and global contacts to support you in building a career whether you want your international teaching experience to be one stepping stone in your career path or the over-arching theme of your entire professional journey. We are your trusty navigators if you will!
So if you feel disillusioned with your native education system or simply desire the thrill and challenge of cutting your teeth in a new environment; do your research, make a plan and summon the courage that served you so well as a trainee teacher and in the words of Columbus himself "by prevailing over all obstacles and distractions, one may unfailingly arrive at his chosen goal or destination."